"Who on earth is buying egg nog in September?"

Me.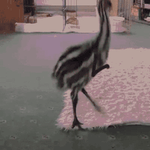 neverjessie Someone animated arms on a video of a baby emu and it's literally the best thing today pic.twitter.com/7N2WEahCN6
I just watched Gravity for the first time. AMA
@longbored It's called "Champion's Road". I love typos. Really, it's a crazy-hard level, but so fun.
@cdharrison @rands I was hoping somebody else already made the follow-up inquiry about the earth's gravitational pull.
@jw Wouldn't it be fantastic to see European Soccer-style promotion/relegation in U.S. sports?
If non-sports fans hate all sports-talk as much as I hate college football talk… then we sports fans have a lot of apologies to make.
@rands Needs more chainsaws. ;)
If you own Super Mario 3D World, and haven't played the "Road of Champions" level, you're in for a great (albeit tricky) run.
Just wasted 23 minutes of my day/week/life watching the most recent @MenInBlazers. So very suboptimal.
@willie Don't go giving us all fantasies.