@cliftonlabrum I would deserve it if I didn't initially call a tech to diagnose it. YouTube convinced me I could do it myself.
@dubsmith919 Me too, when they're planned. I don't like it when you're backed into it. Today worked out okay.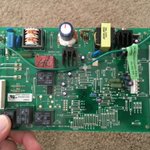 tldr; This needed to be replaced. Opted to buy/replace it myself ($180) instead of paying somebody else ($538). pic.twitter.com/QMjctnPRGx
Googling "refrigerator condenser fan" is not how I planned to start my Saturday.